Social Safeguards: Avoiding the Unintended Impacts of Development
Social safeguards prevent the adverse impacts of development projects, manage their social risks, and promote social inclusion
Large-scale development projects oftentimes end up creating negative impacts that affect vulnerable populations with particular intensity.
Projects likely to displace families from their homes, degrade the living conditions of indigenous peoples or intensify social conflicts at local levels are not uncommon.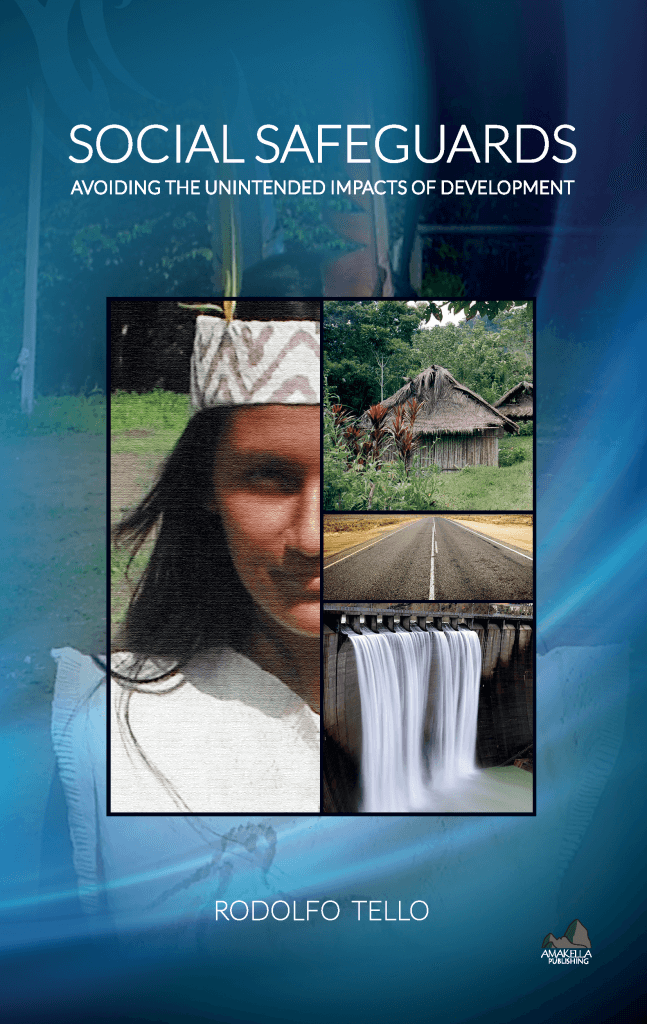 Social safeguards are intended to prevent these and other unintended impacts, and when the impacts cannot be averted, to develop appropriate measures to mitigate them. They can also enhance the development potential of projects, help manage social risks, and promote social inclusion. However, the practical implementation of social safeguards is plagued with a series of structural problems.
The collection of stories from the field presented in this book illustrates the principles and application of social safeguards in the context of projects funded by multilateral banks, identifying key challenges in their implementation and exploring paths to overcome those limitations.
This book by Rodolfo Tello is available in hardcover, paperback, and digital editions. Amakella Publishing, 2015. 136 pages. Dimensions: 5.5 x 8.5 inches. ISBN-13: 978-1633870116.

Key Features
Recommended for any person looking to understand how multilateral banks manage the potentially negative social impacts of their investment projects.
Specific areas where readers will develop greater knowledge and awareness include the reasons why social safeguards exist and their overarching goals; how social safeguard policies are regularly implemented in practice; the top ten limitations to the preparation of social impact assessments; operational challenges of involuntary resettlement and economic displacement; current procedures to prevent negative impacts on indigenous peoples; existing measures to prevent gender risks and promote greater gender equity; how to promote authentic participatory processes in consultation mechanisms; and how to increase the social sustainability standards of economic development.
Excerpt from the Book
"Social safeguards seek to avoid the unintended negative impacts of development projects, like when changing the design of a road to avoid displacing dozens of families … developing appropriate measures to mitigate the negative impacts and risks must be established as a requirement of a project, with verification mechanisms in place. The most vulnerable population should not be the one who bears most of the negative effects of development projects without taking appropriate measures to mitigate them."
Start reading this book here:

Praise from Reviewers
"An important, engaging, and thoroughly original book … Social Safeguards demands that we pay attention to the negative impacts of development projects, that we listen to those being harmed, and that we find ways to ensure that the benefits of development are shared equally."–David Vine, university professor and author of Island of Shame
"Could you imagine what may happen to you and your family if you were forced to leave your home because of a development project? This is a recommended reading about the challenges, pitfalls and lessons from the evolving relationship between big infrastructure projects and local communities."–Lidia Reboucas, Sr. Social Specialist, ERM Brazil
"A book that should be read by all of us in the development industry. It illustrates in simple, highly accessible language why we have social safeguards … to insure that the least among us have the opportunity to participate in the development process"–William Partridge, consultant in international development and former lead anthropologist with the World Bank
"An invaluable wake-up call and resource for chartering best practices going forward." –Midwest Book Review